Contrai is a relatively new, but vocal nation. Founded at 0 days BC/AC, as the founding represented the change in date. Contrai joined the region around 20-35 days AC, and was immediately an active figure.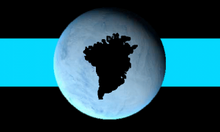 The homeland of Contrai is officially the dwarf planet, however, a lot of the population has moved to their earthly territory and have from there expanded across the globe to become a major economic, technological and military power.
This page is about Contrai the nation. Maybe you were looking for Contrai the Dwarf Planet.